Agricultural and Construction Machinery Transport, Shipping and Logistics Specialists UK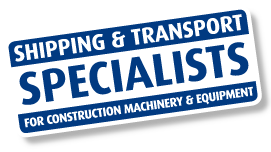 Dornack International has over 30 + years experience in importing and exporting Agricultural and Construction machinery to and from England. We specialize in the shipment of tractors, combine harvesters, balers, backhoe loaders and excavators.
Dornack can provide worldwide shipping and transport services.
We have the knowledge and experience to transport your equipment from anywhere to anywhere in the world.
Your machinery will be in the safe hands of our highly trained operators for the duration of its journey, with our team in the UK working hard to ensure the safe and reliable shipment of your equipment
RORO -  Roll On Roll Off
In addition to this, together with our partners, we also service a number of Roll-On / Roll-Off (RORO) routes. This is normally the most cost effective method of shipping combine harvesters, large balers and excavators. We can offer door-to-door or port-to-port (solely sea freight) services depending on your requirements.
20ft, 40ft, 40ftHC Containers
Depending on the size of your tractor, combine harvester, baler, excavator or indeed any other piece of machinery, you may be able to ship by container. In some cases however you may have to disassemble your machinery in order to meet the internal dimensions of the container.
Freight Services
Examples of items commonly shipped to Shipping & Transport England – Tractors, Combine Harvesters, Balers and Construction Equipment include:
20ft Container, 40ft Container, 40ft High Cube Container, Aircraft Tug, Army Truck, Backhoe Loader, Baler, Bean Harvester, Bedformer, Bucket, Car, Carrot Harvester, Cleaner Loader, Cold Planer, Combine Harvester, Compactor, Cooling System, Cultivator, Curtain-sider Trailer, Cylinder, Drill, Dumper, Excavator, Film-wrapping Machine, Filter Cylinder, Forage Harvester, Forklift Truck, Grass Pickup, Irrigation Reel, Loader, Log Splitter, Military Vehicle, Milling Machine, Mistblower, Mixer, Mower, Pallet, People Carrier, Pickup Truck, Screener, Seeder, Shredder, Silage Trailer, Slurry Tanker, Sprayer, Steel Drum, Stillage, Straw Bedder, Sugar Beet Loader, Telehandler, Tilt Trailer, Timber Harvester, Top-loading Trailer, Tractor, Trailer, Transformer, Vacuum Tanker, Vending Machine
---
Recent shipping destinations include:
England, Scotland, Wales, Ireland, Spain, Portugal, France, Belgium, Germany, Italy and non EU countries such as Australia, South Africa, Kenya, New Zealand and Canada.
---